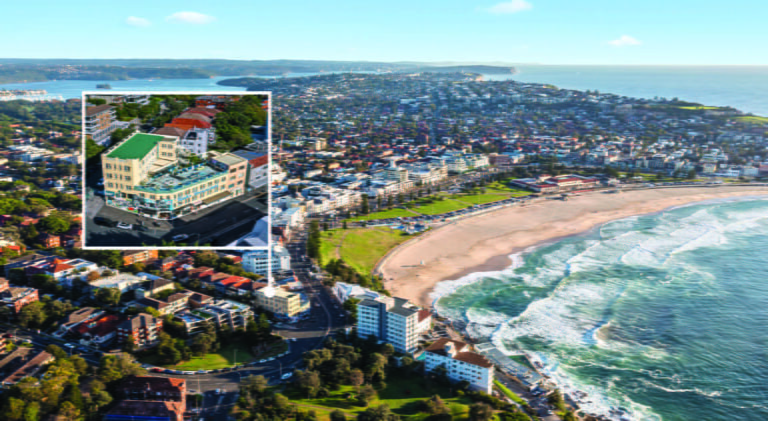 Landmark Bondi Beach corner up for sale
The 1,087sqm site and famous home of Noah's Backpackers and adjoining freehold provides a golden opportunity for developers in a world-famous location.
Sydney, 30th March – Three iconic buildings in the heart of Bondi, including Noah's Backpackers, are set to be sold in one of the largest development opportunities for the Eastern Suburbs in the last decade.
A local landmark that has international recognition, the 1,087sqm site which encompasses the 260 bed backpackers, ground floor retail and the adjoining apartment block, offers a perfect blank canvas that provides flexibility and scale rarely found in the Eastern Suburbs.
Zoned B4 Mixed-use and R3 Medium Density, the site is located on the world-renowned beachfront strip at 2-12 Campbell Parade, Bondi Beach and is easily recognisable with its colourful and famous façade.
The property is listed with the Colliers team of Miron Solomons, Matt Pontey and Henry Burke, in conjunction with Oxford Agency's Daniel Marano and Ralph Garofano.
"This is by far the largest and most compelling development opportunity delivered on the Eastern Beaches in the last decade. It is such an iconic gateway position and we will undoubtedly receive interest locally, interstate and internationally for this Bondi icon," Mr Solomons said.
"There has been a lot of discussion of late surrounding the achievements of off-the-plan sales in the Sydney CBD and nearby Double Bay where they are breaking new records of over $100,000 per square metre," Mr Pontey added. "It is only a matter of time before the right development is delivered to Bondi Beach which will achieve these exceptionally high revenues in a market which arguably has better amenity and lifestyle."
The property is located at the gateway to Bondi Beach wrapping around the corner of Campbell Parade overlooking the world famous shoreline.
Sydney's Eastern Suburbs has been a proven performer over the past few years, with investors and developers locally and abroad targeting more risk adverse tightly held suburban markets.
"With the Eastern Suburbs being perceived as a tried and tested established market, developers are seeking out opportunities to activate their capital and look to the future," Mr Burke said.
"With supply continuing to remain limited and the low interest rate environment, it is likely that suburbs such as Bondi Beach will continue to thrive, especially as developers continue to shape and change the face of this exciting market," Mr Marano added.
2-12 Campbell Parade, Bondi Beach is offered for sale by Expressions of Interest closing Thursday, 5 May 2022 at 4pm (AEST).