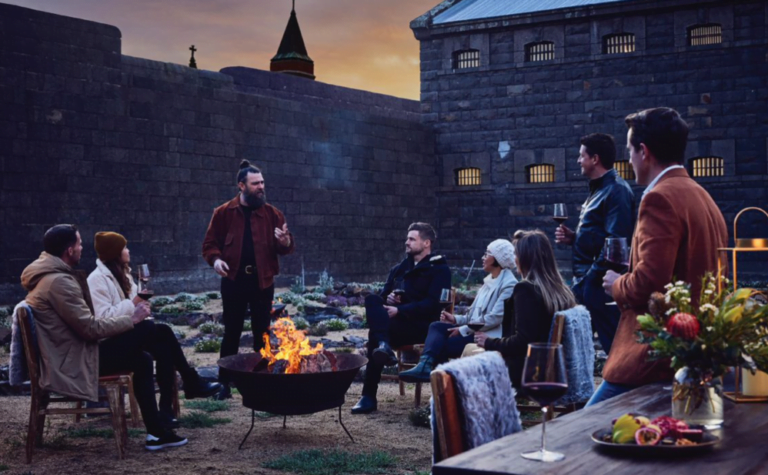 Introducing Melbourne's Newest One Billion Dollar Events Destination, Chapter Place.
MELBOURNE: Victoria's Pentridge entertainment and dining precinct has undergone a one-billion-dollar
metamorphosis and their newest tenant, Chapter Place, is set to cement its reputation as a one-of-a-kind events
and wedding destination.
A tranquil Reflection Garden bordered by 170-year-old Bluestone walls; a former cell block framed beautifully by
ten-metre-high arched ceilings and aptly named 'The Long Hall'; and a converted chapel with stunning arched
leadlight windows are just three of nine on-site venues that have been repurposed for modern day events and
conferencing.
"Chapter Place's event spaces are striking by design," says Senior Director of Sales, Shahnaz Bakhshay. "But it's
the versatility and uniqueness of each of the venues that is really resonating with our clients."
"Quite simply there is nothing like this in Australia right now."
Venue General Manager, Jesse Kornoff, is no stranger to the events industry having run the multi-award winning
conferencing retreats and weddings venue at Mt Lofty House and Sequoia Lodge in South Australia.
"Chapter Place is a destination for unconventional conventions and extraordinary events," says Kornoff of the
transformation which has seen the historic Pentridge site reinvent itself as a dining and events destination.
"This is a place where the modern architecture and design reflects the provenance and history of the site," says
Jesse. "We also don't shy away from what the site was," he says in reference to Chapter Place's 'The Real
Underbelly' conferencing experience, led by one of Pentridge's original prison guards. "But we also celebrate the
fact it has been transformed into a beautiful destination that Australians can enjoy for the next 100 plus years."
Officially opening in autumn this year with a traditional smoking ceremony by the Wurundjeri mob, Chapter Place
– which comprises nine indoor and alfresco event spaces, high-end conference facilities (the Merri Creek rooms
with hybrid conferencing functionality) – sits alongside the brand-new 106-room Adina Apartment Hotel
Pentridge Melbourne for large groups, and other anchor tenants including Olivine wine bar and North & Common
bistro in B Division, a freshly imagined former wing of the 170-year-old historic prison.
"On arrival at Chapter Place, there's a real sense that you've left the ordinary and the everyday behind," Kornoff
says proudly. "You just don't expect such beautiful light-filled spaces to exist behind the austere Bluestone
walls."
In keeping with the surrounds, Kornoff has assembled a five-star events team – including Venue Manager, Elsa di
Battista; Executive Chef, Jordan Monkhouse; and Head Sommelier, Liinaa Berry – who have been working
tirelessly behind the scenes to harness the power of suppliers and artisans in Melbourne's creative north and
turn them into uniquely-Melbourne, signature conferencing experiences.
"Clients can learn how to roll truffles with Coburg's own Koko Black during a 1.5-hour Masterclass; learn how to
use a throwing wheel with local potter, Pink Ember; there's a drinking class for people with a drawing problem; or
Time Travel with a wine journey, led by our Sommelier, Liinaa Berry" he says. "Whilst Chef will be serving
paddock-to-plate style food that showcases Victorian produce to perfection."
For Kornoff, the combination of venue, service, food, and signature experiences are where the transformation of
Pentridge from Victorian prison into a modern-day lifestyle space really comes to light.
"Our Reflection Garden – complete with campfire to combat Melbourne's changeable weather – is the perfect
spot for pre-dinner drinks, team building events or an early morning wellness session," he says. "Whilst the Long
Hall is a showstopper for cocktail events and Olivine wine bar for more intimate affairs."
And, when the conferencing and eventing is done, visitors can step outside Pentridge's perimeter and immerse
themselves in a world of artists, artisans, bars, restaurants, galleries, studios, breweries, distilleries, and wineries.
"Some days it really is hard to believe we're on the fringes of Melbourne CBD and not out in the regions," he
says. "But, in reality, we're just 20 minutes from both the centre and Melbourne International Airport, and well
serviced by public transport."