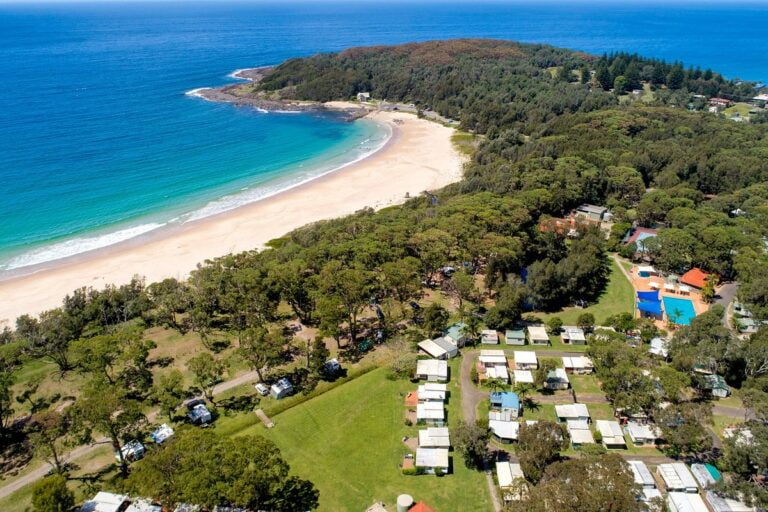 Outstanding Beachfront Holiday Park for Sale by HTL Property – South Coast NSW
HTL Property is delighted to present to market the long term crown leasehold interests in the Kioloa Beach Holiday Park; located with direct beach access on the pristine South Coast of New South Wales.
Kioloa Beach Holiday Park is a short-term holiday park comprising a total of 386 sites, which includes 34 quality tourist cabins and villas; combined with income underpinned by the stability of the rents derived from the 166 long term casual sites that pay an annual rental.
The Property features well-maintained facilities including resort style pool, tennis courts, playground, 3x amenities blocks, multiple BBQ areas, office/reception and a Manager's residence; enjoying substantial open space across the expansive 9.21 hectare site and which provides for direct beach access.
Kioloa Beach Holiday Park is one of the top-performing parks on the NSW South Coast, generating in excess of $2.5m in Gross Revenue for FY21; and a normalized EBITDA of ~$1.2m
The sale is being handled by HTL's National Director of Accommodation brokerage, Andrew Jackson. "The substantial 34 year tenure provided by the Crown Lease offers an enormous opportunity for an incoming purchaser to reinvest into the already established business so as to capitalize upon the superb location and length of tenure provided" commented Jackson.
"This is a pure tourist park play with fantastic bones, and with direct access to a superb beachfront. The unique asset provides an incredible opportunity for an incoming investor to capitalize upon the location and scale of the operation; and then to reposition the park to take advantage of the patent resurgence in demand for holiday park visitations over the remaining 34 year term of the secure crown lease" Jackson added.
"Tourist park assets have remained incredibly popular amongst investors and owner operators even throughout the challenging trading periods recently faced due to lockdowns and travel restrictions. And now that borders have reopened we are witnessing first hand a strong bounce back in trade across the sector, with this particular park also enjoying the resurgence of strong trade" Jackson offered.
"We anticipate strong interest in this opportunity from a wide range of audiences, including both listed funds and dominant groups that have been amassing scale in the caravan park sector over the last decade. "This previously niche asset class is rapidly gaining traction as investor awareness increases regarding the favourable investment fundamentals promoted" Jackson commented.
"Assets such as Kioloa have generated strong returns, even in softer economic times due largely to their resilient income streams and the ongoing demand for affordable holiday and accommodation options. The broad market demand for these type of assets is simply outweighing the available supply. Add to this a domestic tourism resurgence and the corporatisation of the sector, we are experiencing unheralded yield compression for the sector; and we don't expect prevailing conditions to subside any time soon" continued Jackson
"This has resulted in significant yield compression across the asset class, with some incredible sales results being achieved" Jackson concluded.
Kioloa Beach Holiday Park is ideally located within 2hrs drive from Canberra and 3.5hrs from Sydney, providing for a wide pool of tourists who regularly visit for the South Coast's pristine beaches, bushlands, attractions and great climate. The NSW South Coast recorded 8.8 million visitors to the region in the year ending September 2021, who spent approximately $2.7 billion. This already reflects a strong rebound in tourism to the region driven by borders reopening and the pent-up demand for travel. Both economic and tourism forecasts are very favourable and this public sale process represents a great opportunity for an astute investor to capitalise upon the increasing number of visitors to an already well-established and popular holiday park.
The Expression of Interest campaign for the Kioloa Beach Holiday Park closes 19 May, 2022