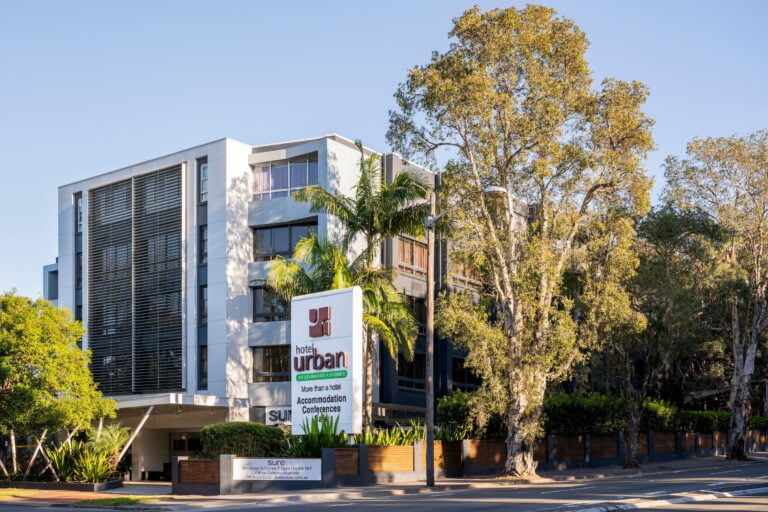 Popular Lower North Shore Hotel Finds a Buyer
Sydney, 30th March – A private purchaser has snapped up the 4-star Hotel Urban on Sydney's Lower North Shore for $8.1 million, which equates to $261K per key for the freehold components. The sale included 31 strata freehold rooms, freehold interest in the lobby, a restaurant, conference rooms and 65 parking spaces. Included in the deal is the leasehold interests on an additional 69 rooms.

Featuring 100-rooms and suites, excellent amenities and a 2,435sqm land parcel, the property is located at 194 Pacific Highway in St Leonards and was offered with the benefit of vacant possession.
The sale was conducted by Karen Wales and Tom Appleby of Colliers on behalf of vendor ErdiGroup. Founded by Eva and Les Erdi in the mid-1980s, ErdiGroup is a collection of privately-owned premium hotels and businesses, that offer a unique hospitality experience.
Consistent with the intention of the founders, ErdiFoundation was established in 2014 with a mission to strengthen community life and to address the disadvantages in Australia and Israel through funding charitable organisations that share the same values as their mission.

Hotel Urban opened in 2006 and is the largest accommodation offering in St Leonards. Some rooms have expansive views over Lane Cove to the CBD, while others include a private furnished outdoor terrace making it a popular choice with corporates and weekend leisure guests.

Karen Wales noted investor's confidence in the recovery of the hotel sector. "The hotel is positioned close to Australia's pre-eminent medical precinct and the St Leonards CBD, which have provided a stable and growing base of demand. The asset is well-positioned to take advantage of the strong trading upturn which is projected in Sydney's hotel market over the medium term," she said.

Tom Appleby noted buyers were particularly drawn to the investment's location. "With excellent transport connectivity and the development of approximately 4,900 new dwellings over next few years, St Leonards continues to be one of Sydney's most highly coveted investment markets," he said.

"The sizeable corner block location and favourable underlying R4 High Density Residential land zoning was also highly appealing… essentially future proofing the investment," Mr Appleby added.

On the adjacent corner, two adjoining properties located at 178-180 and 188-192 Pacific Highway were recently sold to Platino Properties, who have since lodged a Development Application to build 37 independent seniors' units on the site.