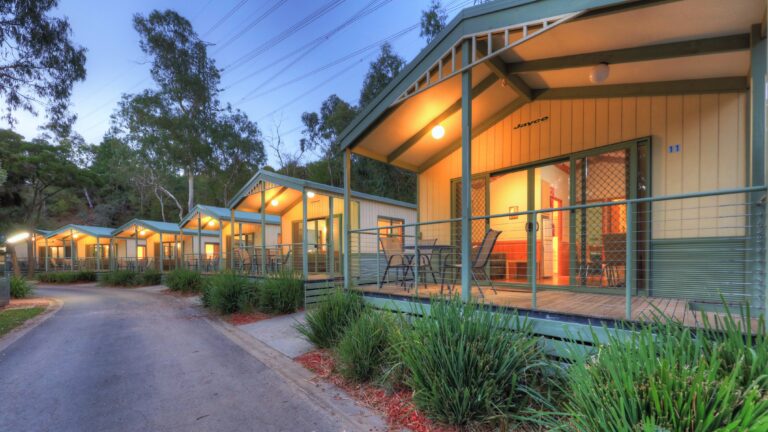 Rare Melbourne Freehold Tourist Park Hits the Market
A very rare freehold suburban caravan park located only 20 minutes from the Melbourne city centre is on the market through exclusive agents HTL Property and CRE Brokers.
Located within a 20 minute drive to the Melbourne CBD, and situated on an expansive 3.89 hectares; Crystal Brook Tourist Park holds immense value in the asset's land component alone.
Crystal Brook Tourist Park is unique in that it is one of only a handful caravan parks within Metropolitan Melbourne, therefore enjoys close proximity to all that is on offer from this world class city. The Property is located on the border of Doncaster East and Warrandyte; approximately 25kms northeast of the Melbourne CBD, in a highly desirable residential area with ample local amenities.
According to realestate.com.au, Warrandyte saw a 29.4% growth in median house prices in the year to December 2021; with Doncaster East also recording substantial growth of 18.4%. Both suburbs now have a median house value close to $1.5 million, and Metropolitan Melbourne house prices have crossed the million dollar mark as well. Property experts across the board forecast that there is still considerable growth in housing prices throughout 2022 and into 2023.
"Despite extended lockdowns, neither the economic nor health related uncertainty has dampened the strength of property market. In fact, we have seen the opposite with housing prices sky-rocketing all around Australia, due largely to historically low interest rates. As housing affordability worsens and the baby boomer generation, our largest age cohort, enters retirement and looks to downsize; we expect mixed-use caravan park interest to soar in respect of both interest and in value" remarked Kevin Connolly of CRE Brokers.
"Regardless of the underlying land value here, caravan sales have never been stronger than in recent years; and we find it refreshing to have a true caravan park still operating within proximity to Melbourne city" added Connolly.
Although currently operated as a 100% tourist park, Crystal Brook did previously comprise a permanent residential component with resident-owned and occupied mobile homes; and this could potentially be reinstated in order to capitalise on the booming housing market in order to establish a more passive income profile via recurring site fees.
Alternatively, an incoming purchaser could maintain the pure tourist offering following the substantial surge in domestic tourism due to increased household savings, returning economic and health confidence; and maybe most pertinently, the pent-up desire for travel as restrictions lift. Crystal Brook Tourist Park comprises 89 sites in total, including a separate 2 bedroom residence for long-term rentals,reception/office and the manager's 3 bedroom residence. The park features well-maintained facilities including two amenity buildings with showers and toilets, a heated swimming pool, jumping pillow, children's playground, BBQ area, communal camp kitchen and games room, chess court, boules court and a commercial laundry building.

There are a range of value-add opportunities including refurbishment, reintroduction of permanent resident-owned homes and remixing the accommodation to higher yielding offerings. The current owner has undertaken concept plans for potential glamping sites and there is ample surplus land to further expand the accommodation offering and facilities (STCA).
Outgoing long time owner Robert Bressan said it was a regrettable sale, but it felt like the right time.
"We've been living in Sydney and these last few years have thrown many challenges at us with border closures and the like as we managed the park remotely from interstate. We pivoted and did the best we could under the circumstances like everyone else. And it wasn't all bad news, we welcomed our first grandchild into the family during this time and my two sons returned home to Australia after long stints living overseas. So I guess these events have made me look forward to the transition towards retirement and to spend more time with family" advised Bressan.
"I look forward to watching the next owner take this wonderful asset to the next level and really enjoy the boon to come from the renewed popularity regarding caravan style holidays; especially now that traveling is back top of mind" Bressan concluded.
Combining a traditional tourist park with a RLLC, into what is termed a mixed-use caravan park is the best of both worlds. A stable income stream is provided via the RLLC with the tourist park component providing additional seasonal income, at much higher rates. As a result, this previously niche asset class is rapidly gaining traction as investor awareness increases regarding the favourable investment fundamentals underpinned by large land holdings.
"These assets have generated strong returns, even in softer economic times due to their resilient income streams and the ongoing demand for affordable accommodation. The broad market demand for these assets is simply outweighing the available supply. Add to this a domestic tourism resurgence and the corporatisation of the sector, we are witnessing unheralded yield compression for the asset class and we don't expect prevailing conditions to abate any time soon" commented HTL Property's Andrew Jackson.
"Crystal Brook Tourist Park will appeal to a broad pool of buyers who will appreciate the underlying land value in the sizable holding; combined with potential permanent home sale profits and recurring income, as well as value-add opportunities. All of which will underpin the future value of this freehold going concern asset," concluded Connolly.
The exclusive agents hold price expectations of around $9 million to $10 million.
Expressions of Interest close 23 March 2022.