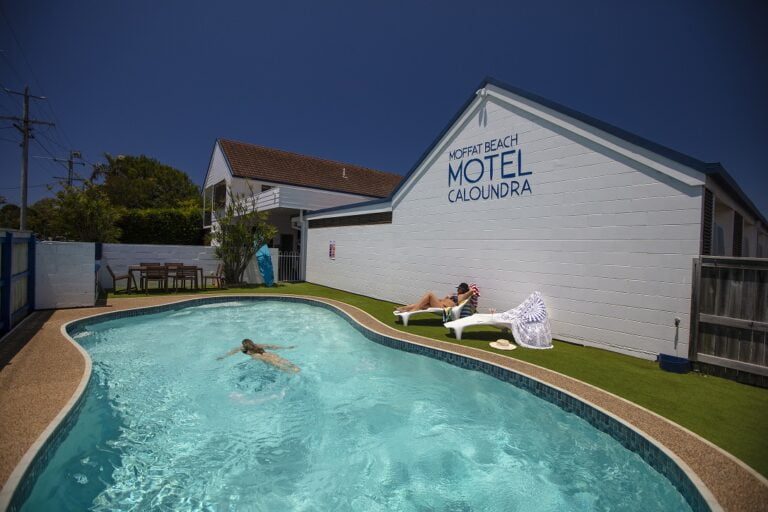 Sunshine Coast motel sale highlights interstate demand for accommodation assets
Brisbane – March 09, 2022 – A Melbourne-based family has snapped up the Sunshine Coast's Moffat Beach Motel in the latest sign of interstate demand for south east Queensland investment opportunities. Located on a prime 1,215 sqm corner freehold site, just 500 metres from the beach, the motel features 12 guest rooms, a swimming pool, guest laundry and undercover parking as well as a fully renovated, two-bedroom manager's residence.

CBRE Hotels' selling agent Hayley Manvell said the sale provided further evidence of the exodus of capital into Queensland from Melbourne and Sydney investors chasing value and capital growth. "The asset garnered considerable interest from a range of syndicates and individual investors," Ms Manvell said.

"Demand for leisure-oriented assets in drive-to coastal markets such as the Gold Coast and Sunshine Coast is off the charts, with any opportunities immediately snapped up given the limited availability of freehold accommodation assets."

Ms Manvell said Sunshine Coast accommodation operators were optimistic about 2022, given the limited supply of going concern motels in the area to cater for record levels of visitation.

"A great example of this was the sale of the Loea Boutique Hotel in Maroochydore, which set a record price per key for a regional motel sale, excluding Byron Bay. Our biggest challenge is getting stock, with investors lining up for similar investment opportunities," Ms Manvell added.

Over the past 15 years, the Sunshine Coast has outpaced and outgrown most of the country's regional economies, with its Gross Regional Product expected to grow from $18.5 billion to $33 billion by 2033, underpinned by strong forecast population growth.

A $334 million runway expansion of Sunshine Coast Airport in June 2020 will be another driver for the region and is estimated to attract more than two million additional tourists and visitors annually by 2040. Ms Manvell said investor interest in Sunshine Coast opportunities had also been underpinned by evidence of an ongoing focus on Australians holidaying domestically coupled with an expected rise in international visitation.

"In response to the international border reopening on February 21, a survey conducted by Expedia Group revealed that searches by international travellers for Australia has grown by a substantial 35% week on week since the announcement, with the Sunshine Coast highlighted as one of the country's most searched destinations," Ms Manvell noted.