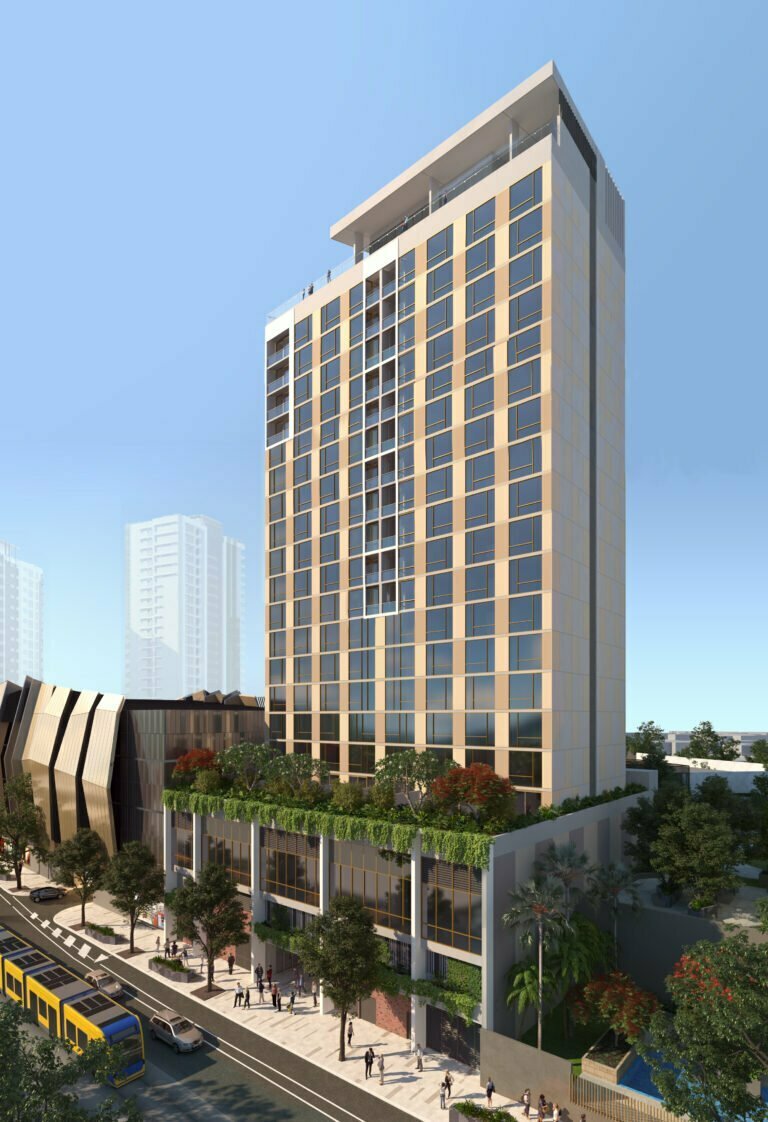 Super-Prime Gold Coast Hotel Opportunity
A 230 room hotel in the mixed-use Queen Street Village development, and located in the heart of Southport in Queensland's Surfers Paradise, has been listed for sale by specialist national brokerage firm HTL Property.
Agent's Nic Simarro and Andrew Jackson are exclusively appointed on the hotel component of the former Gold Coast Hospital site, which itself is being transformed into a $500 million mixed-use lifestyle development built across 3.2-hectares.
Also comprised within the expansive development are serviced offices, a tavern, residential units, an aged care retirement complex; a neighbourhood shopping centre, and student accommodation.
The hotel, available with vacant possession if preferred, encompasses 230 rooms with a mix of suites, lead-in rooms and accessible units. In addition, the hotel will offer conference and event spaces, meeting rooms, restaurant and a rooftop bar and pool. The hotel will be primarily focused on the corporate market, and the incoming purchaser will enjoy the opportunity to either operate the hotel or appoint a management company of their choice.
"We anticipate very high levels of enquiry for the hotel given the prosperous nature of the mixed-use development, and anticipate interest in the hotel will exceed $50,000,000" advised HTL Property Director, Nic Simarro.
"There exist very few Southport hotels that can compete with this location and design, and therefore we recognise this is as being a unique opportunity to acquire one such hotel with demonstrable scale and prominence" added Simarro.
"With the Gold Coast Light Rail on the doorstep of the development, and in addition with the site situated within very close proximity to Main Beach, Sea World, The Spit and a range of private hospitals; this represents a particularly rare transit-orientated accommodation development" concluded Simarro.
"The developer, Property Solutions Group has a long track record of completing this type of life-style development; including Centro on James Street, SW1 and the Barracks in Paddington" suggested HTL Property National Accommodation Director, Andrew Jackson.
"The appointment of leading contractor Hutchinson Builders, and its well-earned and unparalleled reputation, speaks for itself" added Jackson.
"We understand that investors require comfort and confidence in the builder and developer when acquiring fund- through deals, and for this reason we strongly believe the track record of both these leading development practitioners underwrites that pre-requisite confidence criteria" concluded Jackson.
The Expression of Interest campaign closes 11 November 2021; if not sold prior.